Welcome to the Village
FoodDays was created from the ideas and to meet the needs of the PTOs and Schools that it serves - constantly evolving, never standing still.
HISTORY
FoodDays Evolution
Since its inception in 2003, FoodDays has encountered more than a hundred Schools, PTOs and Vendors that have shaped the solution.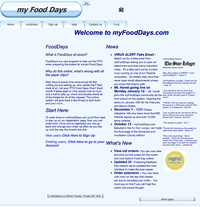 2003 Warren Middle School

The first version of FoodDays goes live!

2004 Woodland Elementary School

Woodland Elementary School became our second school

2006 Credit Cards go online

Adding Credit Card Processing made life easier for parents and PTOs alike

2008 Reports Automation

Automatically sending out reports began

2009 Surveys

Surveys, our first none-lunch program feature goes live

2010 Volunteers

Volunteers goes online - coordination of the volunteers as now automated.

2012 Committees, Events and Directory

Committees, Events & School Directory become new, free features in FoodDays

2012 ptoBay

ptoBay goes live as a sister site to showcase alternate faces of FoodDays.

2015 Fluid accounting

FoodDays adopts a new fluid accounting model that does away with deadlines opening up unlimited ordering

2022 FoodDays+

FoodDays + is a new offering from FoodDays that takes all the effort out of lunch programs
WHAT NEXT?
Schedule a demo
Learn more with a demo. Tell us a little about your needs and we'll see if it's a good fit for FoodDays